Tennis Stringing/Repair, Racquets and Other Consulting


---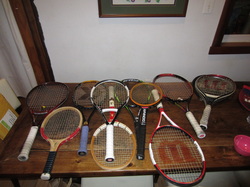 RACQUET STRINGING:
I offer racquet stringing at about $25 per racquet including basic string options. I can also upgrade to a variety of higher quality strings (natural gut, poly, co-poly, advanced synthetic gut or a hybrid combination) from my inventory, by special order, or your own. Free "Moving Forward" >> stencil can be added, or I can put on something else that you like (i.e. your initials, about 4 letter/numbers). I've been stringing for about 5 years and completed over 250 racquets, getting tutelage at the CitiOpen stringing room and at Locario's Tennis Center, as a volunteer/observer/apprentice.

RACQUETS and Repair:
I casually collect and refurbish classic and modern, full- and kid-sized racquets. Contact me if you are interested in trying out some racquets, purchasing used (possibly via my eBay or thrift store sleuthing services) or to work on repairing one of your own (overgrips, regular grip, weighting, balancing, grommets, etc).

KIDS RACQUETS:
It's important to give kids (and adults) right-sized equipment (balls, racquets, nets) so they can learn proper form and have more success and fun while doing it. Currently my favorite kids racquets are the Keiki 65 (23", 65 sq in, 3" grip) and the On Court Off Court 21 (21", 70 sq in, 3.5" grip). I frequently have these or similar new and used racquets in stock and sell them just above cost, with a trade-in/buy back program to let you easily recirculate the racquet when you or your child is ready for aother one.

EQUIPMENT:
I believe in having the right tools and the right equipment for the job, while also being creative and resourceful when improvising. Contact me about getting some of those special training balls, right-sized racquets or other discounted equipment bought in bulk. (FREE OLDER BALLS, when available! And sometimes used tennis shoes (not regular sneakers) in good condition from thrift store or eBay).

OTHER TENNIS CONSULTING:
Let me assist you in choosing racquets, other equipment, string/tension, instructional videos, video analysis, regional playing opportunities, etc. If it involves tennis, I probably have something to say about it.

Contact me about options at 508.641.4706 or send a message below.
---